Social Responsibility

Involvement is Our Commitment

The Caburé Insurance Group creates, develops, supports and sponsors social activities and initiatives.
Our commitment is helping to expand the culture and quality of life in the communities where we operate.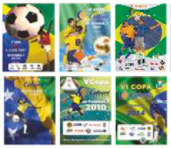 Gol da Vida Project
Created in 2002 with the goal of helping the community, especially those with special needs, the project brings benefits to CHILDREN and adults through special medical treatments, educational activities and sports.
The Gol da Vida Project works on organizing and conducting sporting events on behalf of charities.
The participating teams determine a contribution and indicate a Charity.
The amount collected may be passed on in the form of food, equipment or other property necessary for the operation of the Charities.
Participate!
You too can score a "Beautiful Goal".
For further information, call (51) 2108.5399
Copa Caburé
To foster an environment of social interaction between its customers, from the year 2000, the company started to organize Caburé Insurance Football Cup. The sport provides and reinforces among customers and employees, the bonds of friendship and solidarity that endure over time.
Social Responsibility and Equity Participations of Caburé Group
Construction of the Children's Hospital Santo Antônio – Porto Alegre / RS
Children's Cancer Institute / RS
Cancer Institute of the Cervix Uterus / RS
APAE (assisting 8 charities branches) / RS
Educandário São João Batista / RS
Action in partnership with the Amparo aos Excepcionais Institute / RS
Action in partnership with Banco do Brasil – AABB Community / Brazil
Cultural actions with employees of Petrobras – RS / SC / SP / RJ / BA
Action in partnership with the Brigades and Militaries of RS and SC in activities in the community and assistance to the Operação Golfinho (Dolphin Operation).
Action in partnership with CEEE (Electric Power Company of the State of Rio Grande do Sul), CGTE / ELETROBRAS, RGE (An Energy CPFL Company), AES Sul (An AES Brasil Company), and HENERGE and RAMAL (Construções Elétricas Ltda) benefiting employees and consumers
Department of Justice and the Security of the State of SC and RS in Education Campaigns for Better Driving Etiquette.
Magistrates RS
Public Ministry of RS / PR / DF
Attorneys of RS / SP / DF
Banco do Brasil sports competitions / Brazil
Children and Adolescents with Cancer on MC Dia Feliz (Macdonald's Happy day)